The Safer Living Foundation 
The Safer Living Foundation is a joint venture between HMP Whatton, Nottingham Trent University, National Probation Service (East Midlands), Nottinghamshire Police and Circles UK representatives. The charity adopts a multi-agency approach with a strong research component, focused on reducing sexual (re)offending through rehabilitative initiatives.
Our Charitable Objectives:
To promote the protection of people from, and the prevention of, sexual crime.
To promote the rehabilitation of persons who have committed or who are likely to commit sexual offences against others.
HMP Whatton Conference
"Seldom Heard: Vulnerabilities and Misunderstandings in Sexual Offending"
HMP Whatton are holding a conference on Wednesday 8th June 2016 offering detailed presentations and information relevant for staff working with people convicted of sexual offences. For more details see the flyer here.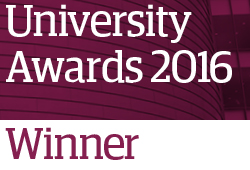 We are proud to announce that we recently won the Social and Community Impact Award at the Guardian University Awards. The Judges said: "An innovate, imaginative project in a hugely challenging area"; "A brave and inspiring approach, based strongly on research, sensitively and impressively delivered"